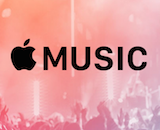 Apple Music is getting another exclusive, and while it isn't a surprise, it is a big one. Drake's upcoming project, Views From The 6, will only be on Apple's platform when it drops on April 29. After giving an interview about the album on Beats 1, Drake tweeted that Views would be an Apple exclusive, but quickly deleted the post. It's unclear whether he was simply not supposed to announce the news until launch, because Apple has since confirmed the announcement. But it has not added any further clarification about how long the album will be gated.
Drake has been a spokesperson for the streaming service before, and his wildly popular Hotline Bling video also began its highly viral life exclusively on Apple Music. Adding his name to the roster of artists who have prioritized paying-only services and Apple Music in particular is not a shock. But the scope of this exclusive release will make it a more telling sign of where the streaming market is currently headed.
That question of windowing could wind up putting serious pressure on Apple's rivals. Drake was the top artist on Spotify in 2015, with a total of 1.8 billion streams across 46 million listeners. If it takes a long time for Views to arrive on Spotify, it puts his fans in a tough spot. Either they shell out for Apple Music, joining the powerhouse musicians who have made the platform their chosen distribution outlet (see Taylor Swift). Or they wait for someone to make a copy and get it uploaded to YouTube or to torrent sites.
Kanye West's The Life of Pablo has taken a similar course. It was a streaming sensation for Tidal, as well as an immediate target for pirates. However, West and his work did eventually come out on top, with a recent rise to the top of the Billboard 200 album chart. Drake does hold a similar, if not greater, cultural sway. This release will likely be a bellweather for measuring listener sentiment about both Apple Music and willingness to pay up for immediate access to today's hottest performers.