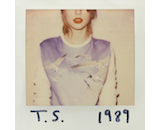 Taylor Swift has released a new music video, but not everyone will be able to watch it. The video for her latest single, "New Romantics," is an exclusive on Apple Music. It includes footage from her 1989 World Tour, which those who couldn't attend in person can also experience as an Apple-only experience.
Swift dedicated the video to her fans. She tweeted a promotional clip for the full video, saying, "The fans are the best part of this tour. They're the reason the shows are incredible, and I know those fans out there are just all in."
Considering the lip service to her supporters, it seems odd then to gate the video so tightly. Normally, an "exclusive" can be found on YouTube within minutes, but Swift has so far been able to keep the official creation under wraps. Perhaps her camp's assumption is that, given the close connection she has with Apple Music, any fan worth their salt is already a subscriber?