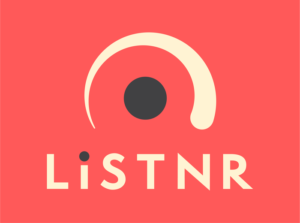 Southern Cross Austereo (SCA), the large commercial radio group in Australia, is making a splashy launch of LiSTNR, a new listening app that brings together the network's radio content, news, music streaming channels (non-interactive), and podcasts.
In this venture, SCA is obviating the PodcastOne branding; the two companies have enjoyed a mutual distribution deal since September 2017, when SCA launched an Australian version of the PodcastOne app. While the PodcastOne mark is replaced by LiSTNR, the existing contract continues, according to CEO Grant Blackley in a conversation on the Radioinfo podcast. So, PodcastOne shows are included in LiSTNR, and the U.S. PodcastOne app includes SCA shows.
The description of LiSTNR promises users a personalized experience, with hyperlocal news, a customized feed of content, and daily recommendations. It's available in Android and IOS, their auto extensions, and smart speakers.
The commercial mission of LiSTNR is based on first-party data — "It has first-party data at the heart of it," said Blakely. Owning listener data is a key selling point to prospective advertisers, an equation more dominant in digital media than in linear broadcast radio. Emphasizing the centrality of that digital advantage, Grant Blakely declared, "LiSTNR will be part of our DNA, the center of the business, an important part of the future."
"It's the golden age of audio," Blakely said. "It has been accelerated through Covid. There is a massive growth still to occur."
.