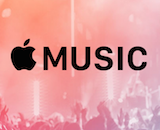 Apple Music is continuing on a steady climb of acquiring new listeners. After reporting that it had 10 million subscribers in January, the company's second quarter financial results included news that the new streaming service has exceeded 13 million subscribers. Considering the service has only been around nine months, that means it is adding more than 1 million subs per month. If Apple Music can continue at that pace over the next nine months, its audience would be comfortably above 20 million by the year's end.
"We feel really great about the early success of Apple's first subscription business, and our music revenue has now hit an inflection point after many quarters of decline," CEO Tim Cook said on the earnings call.
Apple Music has been successful in securing releases from several popular artists – such as Taylor Swift, Drake, Gwen Stefani, and Coldplay – either before they arrived on rival platforms or as ongoing exclusives. The platform has also been making a big international push, and is available in 113 nations.