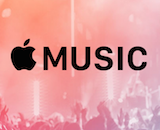 Apple Music is making its debut in China and it's going for cheap. Listeners in the new market can the same three-month trial membership as the launch countries, but once that ends, the subscription will be just $1.50 a month. The local listeners will have access to Chinese artists on the music platform as well as to international pop stars.
The low subscription cost came as a surprise, especially for a brand with a reputation of prestige pricing its products. "In Asia, the pricing needs to be near free or around $2-$5 per month to hit the sweet spot," analyst Neil Shah of Hong Kong's Counterpoint told The Wall Street Journal when Apple first seemed interested in expansion. Especially with other China-based companies offering media and music deals, such as QQ Music from conglomerate Tencent, Apple appears to be entering the field with a willingness to play the local game.
Apple joins select other companies from the western hemisphere in making inroads into China. Warner signed a distribution deal with Tencent late last year to get its catalog to Chinese listeners. The recent IFPI annual report offered more detail on the challenges posed by this Asian market.