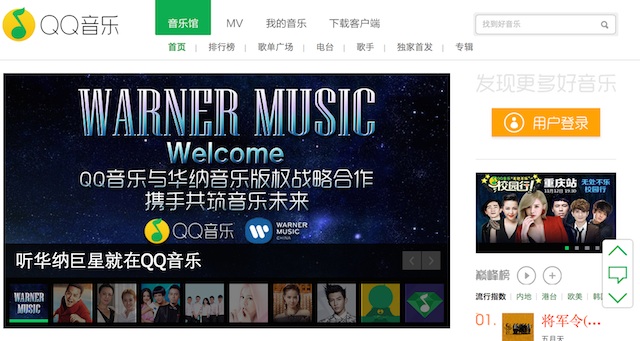 Warner Music Group has entered into a distribution agreement with Tencent, a Chinese Internet conglomerate. Tencent will be responsible for distributing Warner's catalog and new releases to local music services in China. The deal does not include licensing for global streaming operators (such as Spotify or YouTube) or mobile carriers; Warner will continue to control those arrangements.
One of the main platforms where Tencent will be providing Warner's library is its proprietary streaming music platform, QQ Music. The free listening service is one of the longest-running in China. QQ Music focuses on Chinese musicians, although it does have some Western hits too. TechCrunch reported that most of China's streaming services are ad-supported platforms; Warner hasn't shared any of its plans for how it plans to monetize or what the financial details of its deal with Tencent.
"Providing music fans with access to high-quality music, and the right mix of regional and global artists, will be integral to the growth of the digital music sector in China," said Stu Bergen, Warner Recorded Music's international president. Warner recently acquired Gold Typhoon, a Chinese record label, that could further help it segue into the market.