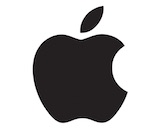 Apple hosted its quarterly earnings call yesterday. The tech giant reported more massive numbers in its fiscal first quarter, although a few segments did post declines. Quarterly revenue dipped 5% on-year, but still reached a whopping $84.3 billion. Earnings per diluted share for the period rose 7.5% to $4.18.
Sales of iPhones, which have been a core product driving financial success, declined 15% on-year. But that was the lone shadow in an otherwise solid quarter. Apple's Services department reached another all-time high of $10.9 billion, breaking the record it set in the previous quarter.
Apple Music reported a new record of its own, reaching 50 million subscribers. That figure is its audience just of paid subscribers. In August, the company said it had 50 million users including those listeners on free trials.
"While it was disappointing to miss our revenue guidance, we manage Apple for the long term, and this quarter's results demonstrate that the underlying strength of our business runs deep and wide," CEO Tim Cook said. "Our active installed base of devices reached an all-time high of 1.4 billion in the first quarter, growing in each of our geographic segments. That's a great testament to the satisfaction and loyalty of our customers, and it's driving our Services business to new records thanks to our large and fast-growing ecosystem."