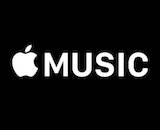 Apple Music has already climbed to more than 50 million subscribers. CEO Tim Cook shared the latest stat in an interview with Bloomberg Television. The streaming music platform had reported 40 million subscribers just a month ago, so growth has been steadily barreling along for the company. (Both numbers include a mix of paying subscribers and trial members who might and might not convert.)
Apple Music has gained enough traction to become a major player in the streaming audio space. Spotify and Pandora are still larger by audience — Spotify has 75-million subscribers in an overall listening audience of 170-million, and Pandora has 72-million monthly listeners, of whom nearly 6-million are subscribers.
But the backing of Apple and its massive war chest has allowed it to build strong partnerships in the music industry and secure exclusive releases from artists. Many analysts have been bullish about the prospects for Apple Music to outpace Spotify's presence, and that is a potentially achievable goal if it can continue this rapid rate of acquiring listeners.