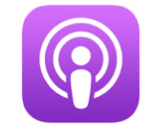 In a welcome development for podcast producers who distribute their shows through Apple's iTunes and Podcasts apps (which is pretty much everyone), Apple has added new functions to iTunes for podcast publishers. Called the Podcasts Connect tool, it allows management of uploaded shows. Publishers will need to tie their shows to an Apple ID.
The new system allows for simpler uploads — old-timers might wish to tell newcomers what they have been spared, as the old system was indirect and sometimes plagued with delays. Users can also make faster changes to published episodes, including hiding or deleting them. Refreshing the portal's RSS feed with changes will quickly update what listeners see.
The new development is part of the broader iTunes Connect management suite, which helps providers manage other media for sale on the digital storefront. Even though reactions to the latest iteration of its Podcasts app for listening have been mixed, Apple is still a top force in delivery of the audio format.