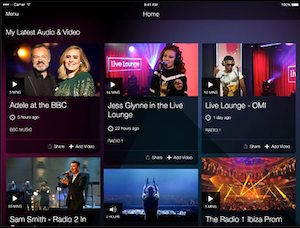 The BBC has released a new, standalone music app. The free BBC Music app pulls from the broadcaster's radio, TV, and online content pools to present a customizable suite of entertainment for Android or iOS phones. It includes both audio and video material, such as live performances and interviews, but all revolving around musical topics. Plus, it will house any track played on BBC Radio in the past week and curated playlists from the organization. BBC Music is built on the technical and usability foundation of the BBC Playlister service, so regulars will probably get a familiar feel.
Users can personalize their experience based on their favorite music genres. The app uses algorithms to deliver content that will fall most closely mesh with a given listener's preferences. It also integrates with other streaming services. Users can export items from the My Tracks playlist to their libraries on Spotify, Deezer, and YouTube.
For now, at least, the app is only available in the UK, so we're not able to give it any hands-on time. But the features and philosophies appear to fall in line with those that are becoming more mainstream for digital music products. And the BBC isn't going to let them remain static. "This is just the start for us," BBC Music Director Bob Shennan said. "We want to hear from users over time to make the BBC Music app the best that it can be, so they can enjoy music from across the BBC – whenever and wherever they are." The developments reflect the BBC's recently shared roadmap with a vision for creating a digital future. Although it will take time and resources to build out that vision, a strong mobile presence is a good first step.