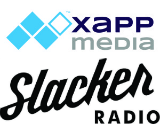 Today brings an announcement from ad-tech purveyor XAPPmedia, describing a partnership with Slacker Radio that brings XAPP's voice-interactive technology to Slacker listeners for navigating the music library. Slacker users are served promotions for playlists, artists, or songs, and can switch to the promoted music by saying a word or phrase without touching the screen.
XAPPmedia provided RAIN News with an audio example of how it works:
This use of XAPPmedia voice-activation technology is called Content Discovery, and it derives from XAPP Ads, which put the same user experience to the service of advertisers. XAPP Ads were introduced in March, 2014, with NPR as launch partner.
The premise of XAPP Ads and XAPP Content Discovery is that mobile listeners don't have their screens at hand. XAPP calls habitual on-the-go audio consumers ultramobile listeners. Their defining characteristic is that they don't have a screen at hand, and cannot touch or swipe to engage with an advertisement or a piece of content programming. XAPP Ads solves the former, and Content Discovery brings the same solution to the latter. Overall, XAPP technology has obvious applicability to connected cars, where fussing with a screen is both inconvenient and dangerous. While Google and Apple are creating global solutions, the XAPP/Slacker partnership puts forward a solution specific to a music service regardless of the car's operating system.
Slacker CEO Duncan Orrell-Jones says that XAPP's service helps make Slacker easily personalized: "Allowing users to interact with content recommendations using audio prompts is a natural evolution of Slacker's commitment to making personalized listening experiences effortless."
Although today is the official launch of the XAPP/Slacker partnership, the service has been present in Slacker since November. the music service reports a response rate 11 times higher than promotions which require touching the screen. In the total targeted audience which received Content Discovery promotions, nearly 15% engaged within the first five impressions.