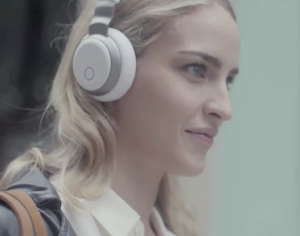 "Do you want to spend hours sorting and building playlists, rather than being served songs you love?" That's the question posed by the soon-to launch new music wearable Aivvy. The product is a set of headphones bundled with the company's own streaming music service of 50 million tracks. The appeal here is a lean-back experience that cuts the tie to a smartphone or WiFi network. In a blog post announcing the upcoming launch, Aivvy even explicitly called out "the music fan in the middle," those who aren't interested in controlling every detail of their audio consumption.
The headphones have personalization that promises to work similarly to the Amazon Echo, tracking your listening habits to make recommendations. The controls are built into the ear cups; swiping forward skips a song, tapping counts as a 'like,' and rotating the dial changes playlists. Starting and stopping is controlled by putting the headphones on or taking them off.
Aivvy comes with a year's access to the company's music service. After that, it will require a monthly fee to continue using with the headphones. The company didn't give specifics on the cost, only calling it "modest."
Headphone technology has been an emerging niche, with some intriguing product teases and launches coming this year. In January, we heard about Twitter throwing its weight behind the Muzik connected headphones. Yesterday we heard of a Kickstarter project to create flexible headphones that avoid ear damage and double as speakers. It's an interesting attitude toward wearables, especially when most studies have pointed to smartphones as the listening platform of choice for so many people. So is this tech a flash in the pan or just forward-thinking? Only consumer choices will tell.