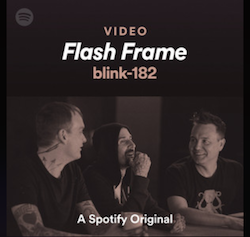 Spotify is rolling out new video projects left and right. The latest one is called Flash Frame, and it's an interesting mix of artist profile and fan service. The series will highlight major moments from a performer's career with live performances of iconic songs. Fans get to see the performances and ask questions of the artists, and some also participate in new music videos.
The first band is blink-182. Several clips of the band talking about hits like "What's My Age Again" and "I Miss You" are only on the streaming service, but Spotify also helped produce a new music video for the single on the band's new album, California.
The current video push by Spotify has taken several forms. The first was an educational series, but it has also explored the listening habits of pro football players and documented the work of Metallica.