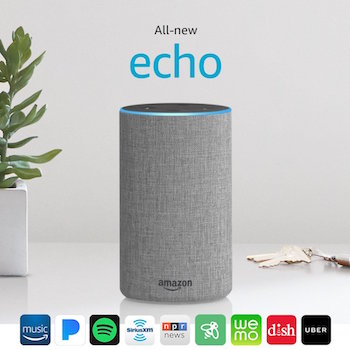 Amazon hosted a jam-packed day of announcements on Wednesday, with a heavy focus on expanding its Echo product line and bringing its Alexa voice controls to more places.
First off, the original Amazon Echo has been redesigned. It's the first update to the flagship device since its debut. The second generation is smaller, contains improved speakers and microphones, and comes in a wider variety of finishes. The updated Echo will ship on October 31, available as a single device for $99 or as a three-pack for $249.
The smart speaker line is also getting a bigger version, dubbed the Echo Plus. In appearance, it's similar to the original Echo design. On the inside, it has the same upgraded speakers and microphones as the updated Echo. But the big upgrade offered with this product is a comprehensive smart home hub. Amazon said it already has about 100 smart home brands on board, meaning that the Echo Plus can be your single source for controlling other technology in your house just with voice, no need for additional apps. This allows Alexa to carry out multiple events under a single command, such as turning on lights and getting the weather when you say "Alexa, good morning." The Echo Plus comes out on October 31 for $149.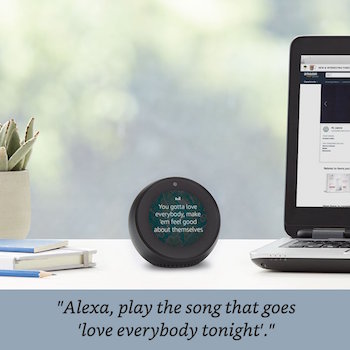 The other new Echo devices seem more focused on specific tasks or needs. The darling of the show was the Echo Spot, a petite smart alarm clock that also offers video functions. Echo Buttons are a pair of, yes, buttons akin to those on a buzz-in game show. They're for playing games on other Echo devices and…seemingly little else. The Echo Connect is another fringe case tool that lets your Echo operate over a landline.
The sheer breadth of options shows that Amazon does not plan to rest on its laurels as the leader in the smart speaker segment. Amazon is amassing a comprehensive smart home suite that is priced competitively enough to buffer itself against the inroads from the Apple HomePod or the Google Home. Research and surveys support the smart speaker segment as a growing trend with no signs of slowing. If interest in these devices does stay high, Amazon is certainly positioning itself for a big win in the voice controlled home technology space.