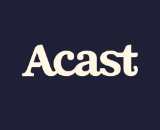 Global podcast company Acast, which lately seems intent to remove all middle-layer interference in the advertiser/podcast planning relationship, has brought those two parties closer with an expansion of the company's self-serve platform.
A new addition to Acast's tech stack allows advertisers to see up-to-date inventory availability for host-read sponsorship campaigns. It's called the Availability Calendar, and applies to all host-read sponsorship inventory in Acast's extensive marketplace.
The company expects this level of transparency to save time in the planning and booking stages, and also make it easier to distribute a marketing budget across multiple podcasts.
This innovation comes soon after the release of Acast's AdCollab feature [RAIN HERE], which encouraged collaboration on ad copy and productions. However, AdCollab interactions occurred after the spots had been purchased. As of today, advertisers can connect with hosts during the planning period, working out availability, booking, and content. At the same time, podcasters have more streamlined monetization and more control, with the ability to accept or decline advertisers. 
"In launching our self-serve advertising platform and bringing AdCollab to market, Acast has made it easier than ever to book and produce podcast advertising campaigns. Now, we are helping advertisers to improve the efficiency of their campaign planning," said Senior Director of Product at Acast Milly Botes. "Globally, podcast ad spend is inadequately distributed to the largest shows, but by improving planning and discoverability tools for advertisers, Acast is increasing the scalability of their brand message while also making it possible for each of the more than 100,000 podcasters on Acast to earn money from their craft."
The new product is being announced just after Acast's Q3 financials (RAIN coverage HERE).
---