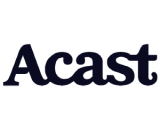 Global podcast hosting and marketplace technology company Acast has launched "AdCollab," a service which enables advertisers to team up directly with podcasts hosts in planning host-read sponsorship campaigns. Host reads, as compared with pre-recorded audio commercials, are the more personal approach and often more effective in fulfilling performance requirements of marketers.
"Advertisers can use AdCollab to easily work with multiple podcasters from around the Acast Creator Network simultaneously," the company says. The company references WTF with Marc Maron as a hallmark example of an Acast show and host that famously leverages the host-read format.
This initiative has been in testing mode since April in the U.S., UK, and Sweden. Acast observes that the test showed improved efficiency in booking campaigns and a simplified podcast sponsorship buying process. We asked whether this initiative is connected to Acast's recently announced self-serve buying of recorded podcast ads (RAIN coverage HERE) — we wondered whether an AdCollab session can be booked at the same time. We are told the two processes are different products, "both indicative of Acast's work to make podcast advertising more accessible and hassle-free for advertisers and podcasters alike."
AdCollab is available to all advertisers planning host-read campaigns.
"Empowering podcasters to create, and to earn money from that craft is a laser focus for us at Acast" said Richard Jenkins, Product Manager at Acast. "However, the process of crafting sponsorship reads has often been time-consuming and limited in scalability. We've developed a product to streamline the collaboration between podcasters and advertisers, while ensuring we maintain authentic and engaging ad experiences for listeners. It's increasing efficiency, creativity, and ultimately revenue potential for content creators and brands alike."
ADDENDUM: Acast used this press notice to disclose that it "has paid more than a quarter of a billion dollars directly into the pockets of its creators."
---