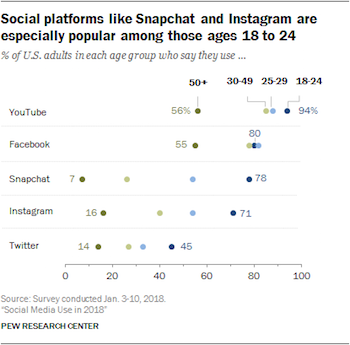 YouTube is the most popular social media network for U.S. adults. That's the latest finding from a Pew Research Center survey, where 73% of respondents said they access the video site online or on their smartphone. YouTube had the highest popularity among the youngest participants, reaching 94% of the respondents aged 18 to 24. Moving up to the 50+ segment, YouTube only reached 56%.
Pew contrasted YouTube with several other social media services: including Facebook, Snapchat, Instagram, and Twitter. Different age groups showed different inclinations. About 88% of the 18-29 age group said they use any form of social media. For ages 30-49, the rate dips to 78%, then to 64% for the 50-64 group. For ages 65 and up, just 37% reported using social media.
The median American uses three out of the eight social platforms covered by the survey. Despite their prevalence, 59% of all social media users said it would not be hard to give up those networks. Just 40% said that giving them up would be hard.
According to the 2017 Infinite Dial survey from Edison Research and Triton Digital, YouTube is the second most popular source for keeping up to date with music. Sixty-four percent of respondents said they use YouTube for that purpose. The video platform was even bigger among ages 12-24, with 80% using it for music discovery.