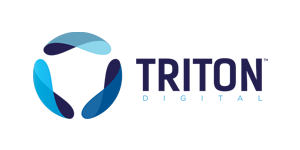 Two questions about digital audio programmatic advertising were addressed in Triton Digital's presentation at the RAIN Podcast Business Summit yesterday:
Is programmatic advertising a "race to the bottom" in ad revenue?
What are actual CPM rates in podcasting?
The answers in a sec. First, some context. Programmatic advertising is AI applied to ad targeting, in which campaigns are directed to consumers (listeners in podcasting) by one or more audience group attributes. Those attributes can be as basic as ZAG (zip, age, gender), or as detailed as personal interest, readiness to buy, and innumerable others. Audience sorting is done by first-party data (owned by the direct publisher or host distributor of a network) and other user data developed and sold by specialized data-capture firms.
Triton Digital is a global leader in enabling digital audio publishing, measuring listening, and creating marketplaces for buying ad inventory. So naturally the company has a broad and interesting view of the audio advertising ecosystem.
Onto the numbers. Triton SVP Stephanie Donovan presented slides in yesterday's RAIN event which divulged average CPM in three programmatic realms: open marketplace campaign buying, private deals for programmatic campaigns, and preferred auctions (which are deals with single buyers which allow bidding above a set price point).
Here is the key slide in Donovan's deck: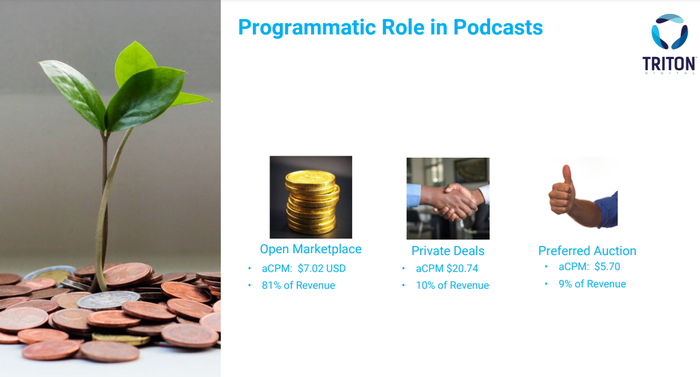 How does this fit into the programmatic ecosystem? CPM rates are all over the map across digital advertising. When we looked at premium advertising collateral during the IAB Podcast Upfront, we saw CPMs of $15-30 for campaigns in top podcasts which were promoted at that event. (Some real-world rates could have been outside that range in both directions.) Programmatic web display runs from pennies to low-double-digit dollars per thousand.
So, while Triton did not provide benchmarking against a larger view in its presentation, it was clearly meant as a brag of attractive CPMs, and our eyes widened at the $7.02 average for open marketplace bidding. To us, that testified to the current value of podcast advertising no matter how it is planned, acquired, and delivered.
"As you can see," Donovan noted, "programmatic is not a race to the bottom."
.