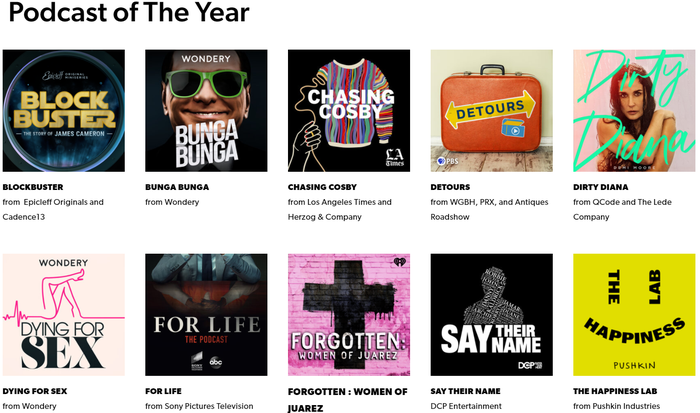 The Podcast Academy has announced nominees for its inaugural Awards for Excellence in Audio — nicknamed The Ambies. The nominees were sent around this morning in a press release. They also appear HERE.
Through a membership vote, 164 nominees have been established across 23 categories.
The podcast Academy has from the start fashioned itself after The Academy of Arts And Sciences. Just as that film-industry group anchors its public reputation in the Academy Awards, so is the Podcast Academy's central public presentation an awards program.
In the Ambies, podcasts can be nominated in multiple categories. Three shows landed in four categories each: Dirty Diana, The Left Right Game, and Wind of Change.
"The Podcast Academy was founded a year ago with the mission to foster inclusivity, elevate awareness and build excitement for podcasts through initiatives, programming and our annual awards," said Chairman of the Podcast Academy, Donald Albright, President & Co-Founder of Tenderfoot TV. "Today, we celebrate the community with the announcement of our first-ever Ambies nominees. They are just as diverse as the creators, both in front of and behind the mic, and are reflective of the far reaching medium. On behalf of the membership, we congratulate all of the nominees."