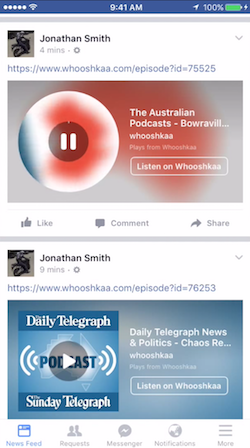 Australia-based Whooshkaa announced that it will be using new audio sharing technology from Facebook, so its shows can be played directly from the social network's main feed. "After months working with Facebook, we're delighted to be the world's first podcasting platform to take advantage of this new audio sharing technology, joining the likes of Spotify and the United States' National Public Radio," founder Rob Loewenthal said.
While Whooshkaa is, to our knowledge, the first podcast hosting company to work with Facebook's audio sharing technology, Facebook has been partnering with other audio brands, and the social media company added this clarification: "We launched Music Stories last November to support all audio content and since that time have been working with assorted partners.  This includes NPR, Serial and This American Life as we've also been testing the use case for podcasts."
This mobile update makes audio accessible inside the social media app. Podcasts hosted by Whooshkaa can be shared to the network in status posts, and one tap will start the audio right in the news feed. While a show is playing, it will shrink to a thumbnail at the bottom right corner of the screen, allowing the listener to continue scrolling through the news feed. This feature will be rolled out to iOS mobile devices during the coming days to all Facebook accounts in all countries. An Android version is coming soon.