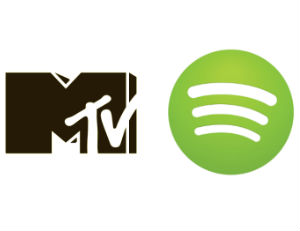 Music never really stopped being a noteworthy component of MTV's programming, but it took a backseat and became the mood-setter for the channel's reality and teen soap shows. But MTV, VH1, and BET could see a resurgence in how they share music thanks to a new partnership between owner Viacom and Spotify.
The deal will make artists highlighted on Viacom's web and on-air programming easily available to listeners through Spotify playlists.
While the calls to "bring the music back" to MTV have long been heard, this seems like one of the best ways to showcase musicians within the current limitations and needs of the television networks. Viewers are often streamers as well, so putting the music on the platforms those people are most likely to use regularly could eliminate the barriers more effectively than returning to the days of music videos on air. The Viacom networks are already considered tastemakers by the all-important teenaged and twentysomething populations, so artists can still benefit from the association by appearing in playlists curated by those well-known networks.
Plus, this isn't the first tie-up between a streaming platform and the networks. Shazam has expanded its identification technology in past months for use with shows and ads on the air. This could be an useful side effect of the second screen phenomenon, where viewers are likely to use and engage with a mobile device while they watch a show. If that second screen time involves bookmarking a new artist to investigate, that's a boon for the musicians and the listeners.