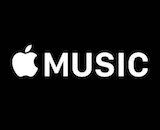 Apple Music is teaming up with Verizon for a telecom bundle. Customers in the Verizon Unlimited plan tier can get six months of Apple Music for free beginning August 16. The deal is separate from Apple's own three-month free trial of the service.
"It gives our customers exactly what they want: Apple's best-in-class music streaming experience, paired with an unlimited plan tailored to them, on the network they deserve," said Angie Klein, vice president of marketing for Verizon, in an official statement.
The telecom indicated that there could be additional offerings from Apple in the future. It called the free Apple Music deal "just the first step" in their partnership.