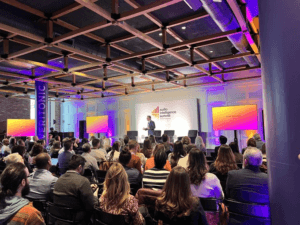 On Wednesday Veritonic presented its second annual Audio Intelligence Summit, a half-day series of presentations whose main theme was the primacy of audio. A series of eight onstage discussions explored the power of audio branding, the monetization of podcasts, attribution strategies in audio marketing, the creative process of branding with audio, some future forecasting of podcasting, a demonstration of interactive audio advertising, and how the audio creation industry can navigate an uncertain financial environment.
The Power of Audio
After a brief and energetic introduction by Veritonic Founder and CEO Scott Simonelli, a conversation about the power of audio for the CPG advertising category was underway. Margaux Natiello (Senior Partnerships Manager at frequent podcast advertiser Athletic Greens) emphasized a traditional and key value of podcast marketing — "There's nothing more valuable than the connection between host and audience," she observed.
Interestingly, in light of a recent report that the FCC investigated allegations of false first-person endorsements in radio, Natiello noted: "We often send products months before a campaign, to be sure there is familiarity."
"We see advertisers seeing success where they didn't think they would." — Julia Kelly, Senior manager, Ad Sales,Wondery
Attribution
A deep-in-the-weeds discussion of attribution and brand lift was expertly moderated by Bryan Barletta of Sounds Profitable. He elicited the successes and challenges of measuring campaign success from the buy and sell sides. Sky Opila (Head of Acquisition Marketing at insurance purchase service PolicyGenius) and Gretchen Smith (Vice President of Media, Ad Results Media) explained the growth of attribution technologies from their viewpoints.
"The first attribution was, the phones rang," said Opila. "We do a massive amount of attribution; we are obsessed with attribution and customer relationship." He noted that the "attribution skew" is different in podcasting from other channels, and survey work is effective in podcasting (though with mixed results, he noted.)
Opila also commented on the varying ability of podcast hosts to perform live reads: "We can have great posts whom people love, but who can't nail a read."
Gretchen Smith mentioned the difficulty of selling the need for attribution to some clients: "We don't trust any pixel method" — is a sentiment she has heard, and which she attributes to the "secret sauce" aspect of attribution technology.
Busting Myths
Hetal Patel, EVP Smart Audio and Insights at iHeartMedia, grabbed the stage to energetically blast myth memes which are sometimes applied to podcasting. Never was there a more energized advocate. Among the myths in Patel's galvanizing slide presentation:
Podcast is not growing: Actually, it is double-digit growth, Patel said.
Podcasting is all casual listeners: "Light listeners" are down 2019-2022, while "heavy listeners" are up.
Podcasting is a niche medium; it can't reach scale: 125M people Americans have sampled podcasts; that is one-third of America.
Podcasting and talk radio are exactly the same: 70% of podcasting is consumed at home while talk radio is mainly consumed in the car. Time of listening trends are also different.
Podcasting is just about platform wars: iHeart delivers its podcasts everywhere, and "podcasting is a publisher centric marketplace. Also, ads travel with the content.
Podcasting is not diverse: Used to be true; now diverse audiences are fueling podcast growth. (Patel also noted that the myth can be applied to the content or the audience.)
---