"Since 2014, Acast has been creating the world's most valuable podcast marketplace, building the technology which connects podcast creators, advertisers and listeners. Its' marketplace spans 92,000 podcasts, 2,300 advertisers and 400 million monthly listens. Crucially, those listens are monetized wherever they happen – across any podcasting app or other listening platform." –Ross Adams, CEO, Acast

Global podcast company Acast released its Q4 earnings, in a comprehensive, fully designed PDF available HERE. In promoting the report's release, CEO Ross Adams highlighted these points:
– "In Q4, our revenues grew 35% in comparison with the same quarter last year.
– We are on the right track towards profitability in 2024 and more than halved our EBITDA losses quarter on quarter.
– We now host a total of 92,000 podcasts – an 130% YOY growth, generating 1.3 billion listens a quarter.
– We work with 2,300 advertisers globally and our average advertiser spend increased by 46% YoY."
In the formal report we observe a common story for assertively growth-oriented media companies: Gross profit and net loss. In this case the profit line was 157,000 Swedish SEK, filtering down to a bottom line net loss of -74 SEK. The following chart details the basic finances compared to Q4 2021, and full years 2021 and 2022: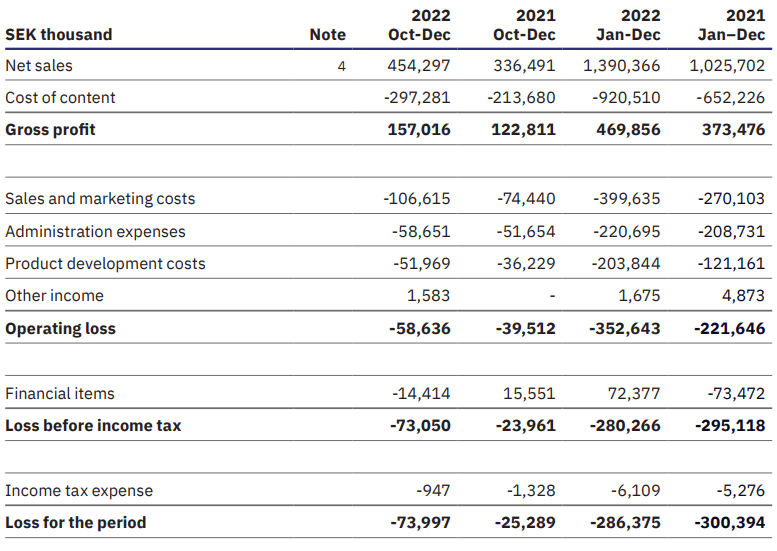 CEO Ross Adams stated a theme that we have heard in other Q4 reports: "2022 will go down in history as a year when the focus in many industries shifted from hyper-growth to profitability and internal efficiency." He notes a positive change in the advertising market, in which podcasting is fast-growing with a promising future. He also cited "gradually increased uncertainty in the outside world" which affected the advertising market.
Of special interest in the report is a breakout of financial results by region, over three years: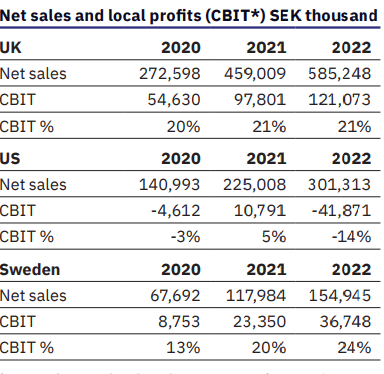 ---