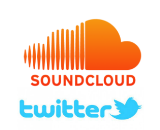 Twitter has written off the investment it made into SoundCloud. The social media company put about $70 million into the audio platform in 2016 through its Twitter Ventures unit. Twitter explained in its 2017 annual report that the money invested is "not expected to be recoverable within a reasonable period of time."
When taken in the context of SoundCloud's eleventh-hour funding deal with The Raine Group and Temasek, Twitter's move is unsurprising. The addition of the Series F round, rumored at $169.5 million, changed the mathematics for most of SoundCloud's existing investors. But Twitter has long been more than a casual observer of SoundCloud's business. Back in 2014, the social media company was a candidate to buy the audio company. The possible deal fell apart when sources said that the "numbers don't add up" for Twitter.
Twitter's decision to write off the investment indicates that this chapter of involvement with SoundCloud has drawn to a close. Also, despite some positive moves, it's a reminder that financial success in online audio is far from assured.