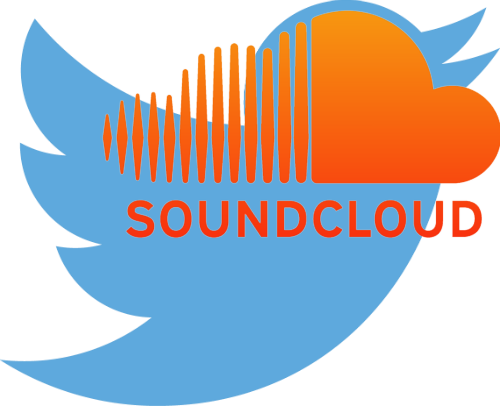 UPDATE: Deal off, reportedly. This rumor, floated two days ago, sank today with new, anonymously-sourced news that Twitter has walked away from talks with Soundcloud. The Wall Street Journal is providing its inside access to the purported Twitter/SoundCloud negotiations, and now says that "numbers don't add up," and that Twitter has allowed its exclusive discussion window to lapse. That doesn't necessarily mean that a conversation between the two companies cannot continue, or resume. But the WSJ reports that Twitter has "backed out of the talks."
---
As the supposed Apple acquisition of Beats Electronics is taking longer than expected, the industry needed a fresh rumor to chew on. Peter Kafka of Re/Code has supplied it: According to his sources, Twitter might buy crowdsourced music site SoundCloud.
SoundCloud has made news ripples in the last few months with product updates, and the company made a splash in January when it obtained a $60-million funding round from Institutional Venture Partners (IVP). At that time, the investors dubbed SoundCloud as "the YouTube of audio."
That's a big mandate to fulfill, and it's natural that SoundCloud would seek major partnership — and, at the same time, provide a profitable exit for its investors.
The acquisition would leverage a couple of intersecting values and needs. Both companies value music — SoundCloud is built on music, of course, and Twitter recognizes that its users love to tweet about music. There is already product alignment, as tweets containing SoundCloud links can play the SoundCloud audio within the Twitter app. Twitter has dabbled in the music business, with the now-defunct Twitter #Music, which was dead-ended last fall. Since then, Twitter partnered with Billboard for Twitter-derived music charts.
For its part, SoundCloud might be eyeing Twitter's sales force. Soundcloud has never run a banner advertisement, and receives most of its revenue from premium-service subscribers. But SoundCloud is attracted to native advertising, and it's easy to speculate that Twitter's greater monetization experience could be part of a merger conversation.
If Twitter and SoundCloud are indeed talking, the issue of music licensing has probably arisen. It is widely speculated that SoundCloud might carve out licenses with music owners in the same way that Google has done with YouTube. That would open wide the door to crowdsourced uploads of unowned music — an important driver of YouTube's success. Indeed, it is difficult to imagine SoundCloud in a serious head-to-head competition with YouTube, without music licenses.
Some vocal SoundCloud uploaders are uneasy about the merger prospect, and wondering what the acquisition would mean for a platform which has operated independently for years. One Facebook group of SoundCloud users, called The Piano Cloud, is adopting a lighthearted attitude. The group started a contest for the best music piece composed in 140 notes.