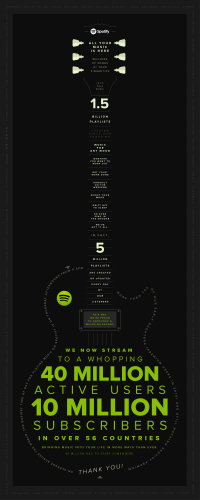 It's not every day (or week, or month, or quarter) that Spotify releases audience metrics. The company saves it up for big milestones. Today the company unleashed an important one: the on-demand music service has 10-million paying subscribers.
Spotify is available in 36 countries, and is "actively" heard by over 40-million people. "Active users" usually means people who listen to something at least once a month. Spotify offers an ad-supported free-listening platform, topped by a Spotify Premium subscription plan which eliminates the ads and provides other enhanced features.
The press release notes that Spotify has paid over a billion dollars to music rights-holders.
Spotify is celebrating in its favorite way — data! A nicely designed infographic spills a few usage details:
1.5-billion playlists have been created.
The most active usage period is Thursdays from 4-5pm (presumably adjusted for time zones).
More than 70% of 2010 subscribers are still with the Spotify Premium plan.
Oh — and a celebratory playlist. Entitled "Thank You x 10 Million," the three-hour, 44-song stream features "some of the brilliant music from the journey to 10m subscribers." At least one track (Led Zeppelin: "Whole Lotta Love") predates the journey, but is included presumably in honor of Spotify's exclusive distribution of Zep.
A message for attentive observers: The playlist's final song is Billy Bragg's "Waiting For The Great Leap Forwards" — representing Spotify's intent to scale its business, audience, and the music-access model it represents, far beyond today's milestone. Founder Daniel Ek has frequently said that scale is the answer to challenges in the streaming business, and also the solution to musician complaints of low revenue compared to album and song sales. (Billy Brag has praised Spotify in the past, and partners with Spotify as a content host.)