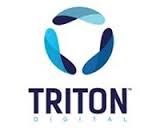 Triton Digital has entered a deal with Western Media Group that will expand its business in Canada. Under this arrangement, Western will exclusively operate Triton's a2x programmatic audio advertising exchange in Canada. The a2x exchange provides automated buying, selling, and targeting of audio ad inventory. WMG supplies independent cross-media solutions for the Western Canadian market.
"We are thrilled to have Western Media Group oversee a2x in Canada," said John Rosso, Triton Digital's president of market development. "Between their impressive network, experience in radio, and unparalleled advertising expertise, they are the perfect partner with which to bring new Canadian publishers and advertisers to the exchange."
"With listener-level targeting and one-to-one delivery, digital audio is an incredibly powerful compliment to other advertising channels that will undoubtedly enhance the advertising landscape as a whole in Canada," Western Media Group President David St Laurent said.