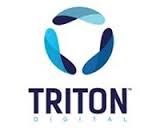 This morning Triton Digital launched Tap Podcast, a new advertising platform for podcasts. Tap Podcast is a customized version of the Triton Advertising Platform (Tap), built to provide targeted ad injection in podcasts.
"It's a state-of-the-art campaign management and ad insertion platform for podcasts," RAIN News learned from John Rosso, President, Market Development at Triton Digital. "It's an important addition to our product suite, one that we think will be a big help to our clients."
The Triton Advertising Platform now has three monetization components: on-demand streaming, live radio webcasting (replacing ads heard on the AM/FM side, and now podcasting. Tap Podcast is integrated with Triton's Content Delivery Network, enabling content publishers on that platform to easily traffic and manage campaigns in podcasting. As such, the system is well suited to radio broadcasters who use Triton's platform to stream their shows.
"For sure, radio broadcasters could be the main users of Tap Podcast," John Rosso said, noting that broadcasters have been testing the platform. "But anybody who publishes podcasts can benefit from the ad insertion capabilities. It's a monetization tool."
Tap Podcast can inject ads as podcast pre-rolls, post-rolls, and mid-rolls. The mid-roll insertion is managed by means of a production tools which allows the publisher to specify an insertion point down to a fraction of a second. Targeting includes geo-location, tags, and specific episodes. Analytics are provided to optimize campaigns.
This level of automation spearheads a trend which potentially opens the earning power of podcasts to organizations, or individual podcasters, that don't necessarily have a specialized sales force to approach marketers. At the same time, this trend might change the quality of podcast commercials from the live-read direct response ad, which has driven podcast monetization over the last couple of years, to more typical radio-style spots. Additionally, podcast ad-injection, which is accomplished in real-time, assumes and supports a trend away from downloading, to streaming. More than half of Triton's publishing clients see their podcast listens starting as streams, not downloads.
These trends, and the Tap Podcast platform which supports them, could have a liberating effect on publishers who seek ad revenue for their podcasts, and advertisers who want to get into the podcast game with their radio-created spots.
It's not only broadcasters who will pile into Tap Podcast. Triton has announced that several (currently unnamed) podcast creation and hosting platforms are integrated with the platform at launch. That means that before long independent podcasters on those platforms might choose to put their programs into the ad market via Tap Podcast.
"As the podcasting format continues to gain traction and attract larger audiences, it is more important than ever to provide a solution that enables publishers to monetize that audience easily and efficiently," observed Richard Hill, SVP & GM of Streaming at Triton Digital.