Pandora Premium, the interactive music service long in development and selectively released in March, is available to all users as of this morning. Along with that, Pandora has started a new ad campaign titled "Sounds Like You."
While Pandora is headlining today's announcement with the ad campaign and music artists associated with it (Big Sean, Miranda Lambert, Questlove, 2 Chainz, Amine, Bishop Briggs, Brett Eldredge, Daya, Halsey, Keith Urban, Kelsea Ballerini, Lil' Yachty, Maggie Rogers, Nicky Jam, Pitbull, Thomas Rhett and Ziggy Marley), many people will view the unlimited release of Pandora Premium as the more important news. Premium is a fully interactive on-demand music listening and collection service, priced at $10/month.
"This is a transformational moment for Pandora, and a huge opportunity for us to re-engage existing and new users, particularly with the important millennial audience across all three tiers of our service." That's John Trimble, Chief Revenue Officer of Pandora, who answered our questions about today's announcements. Trimble emphasized not only the formal launch of Premium, but the spectrum of service options now available with free ad-supported listening (classic Pandora), the semi-interactive Pandora Plus, and Pandora Premium. "We believe that addressing the entire demand curve and meeting consumers where they are with options suited to them, whether it be ad-supported or subscription-based, is key to Pandora's long-term growth."
The new ad campaign hits the same note. Rather than hammer home the new interactive features of Pandora Premium, the videos promote a general marriage of Pandora's musical savvy and the listener's music taste. Only a quiet display of the Pandora Premium logo, at the end of each commercial, relates to today's launch. According to Nick Bartle, Chief Marketing Officer at Pandora, the new campaign "embodies Pandora's unique ability to deliver a music experience completely personal to each listener. So whether you're a long time listener of Pandora radio or enjoying Pandora Premium, we can help you find what you already love and reward your curiosity with never ending discovery."
Tailored To Existing Users
In our month-long use of Pandora Premium, we have enjoyed a fault-free product clearly tailored to Pandora loyalists who have not yet adopted an interactive service. Pandora Premium comes to life best for users who have a history of interacting with Pandora Radio, with lots of station-building and thumbing in their data profiles. Pandora's intelligence engine uses its mountains of user data to flesh out playlists and suggest personalized music for listening and downloading in Premium. In a media event last fall, Founder/CEO Tim Westergren said that existing music services were broken. Pandora Premium fixes the experience best for the existing user base, which aligns with the company's goals as stated in the last several quarterly earnings reports.
"Ad-supported radio will continue to play a significant role in the evolution of the entire streaming music ecosystem," John Trimble told us, noting that Pandora is the #1 radio station in 87 markets. "We are excited to continue the momentum Pandora has built over the years and find new ways to help brands effectively reach their audiences through the power of audio and music." (Pandora was Presenting Sponsor of RAIN's Digital Audio Advertising Summit in Chicago last week.)
The full launch of Pandora Premium culminates a 17-month period of industry anticipation which started with Pandora's acquisition of Rdio in November, 2015. Rdio was a Spotify competitor much beloved by its loyal user base, but less successful in scaling its audience footprint. Pandora immediately announced its plan to build an interactive service.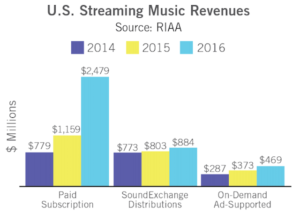 Today's launch comes on the heels of a 2016 report from the Recording Industry Association of America (RIAA) which revealed that music subscription services drove nearly three times the revenue of non-interactive, ad-supported online radio services.
According to the RIAA, 2016 was the first year that streaming music of all types created the majority of revenue to the record business.
Moment of Fruition
Today is a moment of fruition that alters the competitive landscape of cloud-based music access. Three market-leading players dominate the field — Pandora, Spotify, and iHeartRadio:
Pandora started as an internet radio service with a unique and powerful technology base called the Music Genome which can quickly discern the musical taste of listeners and feed them music they love. Pandora now serves 100-million quarterly listeners, about 4.5-million of whom use the $5/month semi-interactive Plus service.
Spotify's free tier has offered users a semi-interactive experience which seems to funnel them effectively into the paid subscription tier; Spotify now has over 50-million monthly subscribers to its full-featured celestial jukebox.
iHeartRadio has a three-tier service spread, like Pandora, and folds in terrestrial streams to the music discovery and collection experience. iHeartRadio boasts 100-million registered users.
In the background lurk Apple Music and Google Play Music, settled comfortably in the ample laps of their giant parent companies, relatively free from the financial pressure of a dedicated bottom line tracking the music delivery business.
Going forward, Pandora reaches for a publicly stated goal of signing up between six- and nine-million Premium subscribers in 2017. Existing users of the free radio service can enjoy 60-day free trials, and Plus subscribers get six months free — a healthy chunk of time in which Pandora hopes they become addicted to the experience.