Ever needed confirmation that success breeds success? Edison Research has released an important result from its Podcast Consumer Tracker, a subscription research product that illuminates what the company calls "a universal measure of reach."
The bullet point? Any podcast advertising campaign which buys the top five podcast networks will reach 50% of weekly podcast consumers.
To frame this more broadly, 24% of Americans 12+ consume podcasts weekly (according to the Edison/Triton Infinite Dial 2020). So the five-network buy addresses 12% of the American adult/teen population.
The public version of this announcement doesn't name the networks, unsurprisingly. But it does scale the reach upward incrementally according to the hypothetical campaign. So, one network (the "Top Network") reaches 22% of weekly listeners. Add the #2 network and you get to 31%. And so on.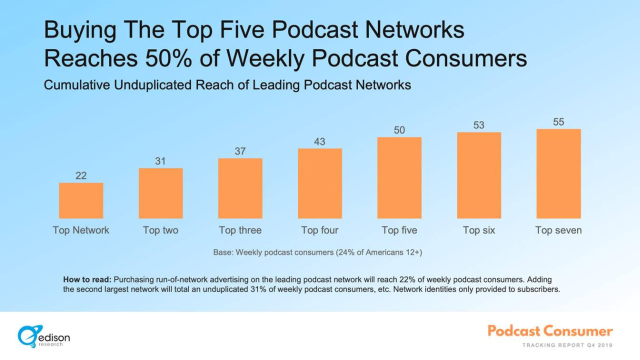 With each added network, Edison's calculations eliminated duplicate listener reach, naturally.
Edison's point with this is to show how efficient podcast advertising has become as the category enlarges, matures, and consolidates. "Our research shows that 50% reach of weekly podcast consumers can be achieved through buying the top five podcast networks," the company says. "Achieving that kind of reach ten years ago would have meant buying thousands of individual podcasts, but as these reach numbers continue to change, buying podcasts at scale is more feasible than ever."