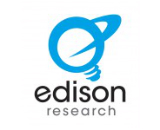 Edison research has launched a new subscriber-only research series called Podcast Consumer Tracker, described as "the first successful endeavor to present a unified look at audience information at the publisher/network level." Edison SVP Tom Webster characterizes the study's mission as "the first study in the podcast space to tackle a  universal measure of reach. […] The Podcast Consumer Tracker's goal is a truly inclusive measure of the comparative penetration of the leading publishers and networks."
While not stated, it seems as if Edison's project could be partly in response to the well-known and publicly accessible TOP 10 PODCAST PUBLISHERS monthly ranker from Podtrac, which includes networks which subscribe to Podtrac's proprietary measurement platform. That release is informative, and certainly conveys bragging rights (often flaunted by NPR and iHeartRadio, the two leaders every month), but is necessarily limited. A recent declaration by Mary Berner in a Cumulus earnings report that the Cumulus-owned Westwood One Podcast Network serves 70-million downloads per month was one indication that important parts of the podcast publishing ecosystem could be missing from Podtrac.
Aligned with Edison's apparent mission and competitive posture is the list of launch subscribers, which includes NPR, PodcastOne, Wondery, ESPN, and WarnerMedia. The key selling point is Edison's promised profile of network reach. The project also promises information about purchasing and consumption patterns of podcast listeners, content preferences, and advertising targeting information. The pitch to network subscribers might be paraphrased as, "This will tell you where you stand, and how listeners behave." (That is RAIN's characterization; we have not seen the study results.)
Though the research is concealed behind a subscriber wall, and the launch announcement is primarily an advertisement for the quarterly research service, Edison has included a few fact tidbits:
The Joe Rogan Experience is the leading podcast in terms of reach amongst weekly podcast consumers. (The show is currently #1 in Stitcher's chart, #1 in the iHeartRadio Top 100 Podcasts, and #2 in Apple. Tom Webster used The Joe Rogan Experience as an example of effective YouTube distribution, in his Podcast Movement keynote presentation.)
There are significant content consumption differences between iPhone and Android users, rendering "Top Podcast" charts derived exclusively from users of either to be unrepresentative of total listening behavior.
While the study tracks the relative reach of the top podcast networks, 54% of weekly podcast consumers have listened to an unaffiliated, independent podcast in the last week.
Edison's survey targets are weekly podcast listeners — a highly engaged cohort. The second quarterly report will be delivered to subscribers in January.