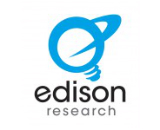 Edison Research has been going international with The Infinite Dial this year. Shortly after announcing plans to bring its audio survey to South Africa, the company shared that The Infinite Dial Germany will debut later this year. The inaugural research into digital audio, podcasts, smart speakers, and more is due to share its first results on September 3.
The research in this new market was commissioned by RTL Radio Deutschland, a leading radio group in the country. RTL recently introduced podcasting platform Audio Now.
"In addition to our content expertise and innovative offerings, we are pleased to be able to provide a reliable data source for the use of digital audio in Germany in the future," RTL Radio Deutschland CEO Stephan Schmitter said. "In Edison Research we have found the perfect partner for this. We are very much looking forward to the results, which will certainly be giving us exclusive insights into this future relevant area of media consumer behavior."
"Germany's addition of The Infinite Dial study comes at the perfect time," said Larry Rosin, president of Edison Research. "As digital audio is experiencing such explosive growth, it is crucial to have quality, consistent measurement of the space. We are thrilled to add Germany to the list of countries employing the Infinite Dial."
The Infinite Dial audio survey now covers the United States, Australia, Canada, South Africa, and Germany.