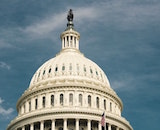 The U.S. Copyright Office has made an important step forward in enacting the provisions passed by the Music Modernization Act last fall. The office selected the group of the National Music Publishers Association, the Nashville Songwriters Association International, and the Songwriters of North America to manage the creation and operation of the Mechanical Licensing Collective. In addition, the group representing Spotify, Amazon, Google, Apple, and Pandora has been chosen for the Digial Licensing Coordinator.
Under the Act, the collective will be responsible for maintaining a publicly available database of musical works and sound recordings. The coordinator role will represent digital music services as the new laws for mechanical licensing are put into place. The DLC will assist in administering the new blanket license.
"This has been a long, deliberative process and we are pleased with the result," NMPA CEO David Israelite said of the result. "The Copyright Office set a high bar and the team behind the MLC submission was transparent, thorough and representative of the entire music publishing and songwriting community. We look forward to seeing the benefits of the Music Modernization Act come to fruition. As we now move to the funding phase, it is critical that the digital services commit to supporting the MLC properly and become more transparent, starting with disclosing the amount of unmatched money currently at their companies."
There was only one submission for the DLC, but the NMPA group won out for the MLC bid over another contender. The rival group was the American Music Licensing Collective, which included PledgeMusic founder Benji Rogers and Audiam founder Jeff Price as board members.