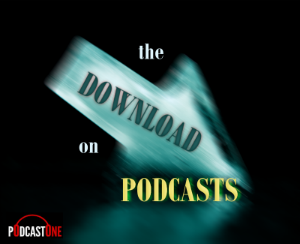 The Download on Podcasts is a weekly feature sponsored by PodcastOne.
---
When NiemanLabs produced an analysis last week of NPR's first-quarter listening statistics, the main lesson was this: People are migrating from real-time listening to time-shifted listening. In other words, on-demand.
On-demand and on-demand audio are interesting terms for the radio and streaming industries. Generally, those terms refer to talk programming that can be accessed online, detached from any broadcast schedule. Music, meanwhile, has been available on-demand for years, but doesn't generally fit into on-demand audio as mostly used in the industry.
Podcasting is obviously a large part of on-demand audio; definition boundaries that existed years ago have been smeared by the streaming and mobile revolutions. In NPR's case, archived radio programs are called podcasts, and some of those shows continually appear in the iTunes list of most popular podcasts.
The Q1 metrics from NPR indicate that total listening hours for NPR station stream are down 6% year-over-year. (the survey included 239 station streams.) Picking up the slack from that reduction is on-demand listening to NPR-owned content, which now represents a third of all digital listening hours, according to NiemanLabs. NPR's podcast downloads nearly doubled, year-over-year. (Nieman's analysis notes that downloads can be counted, but not listens. A listen can happen after a download, but does not necessarily happen. Also, a listen can happen in streaming mode, without a download. These measurement wrinkles contribute to an analytics problem that many stakeholders in the podcast industry complain of.)
If this manifesting trend sounds familiar, think about how you watch you favorite program on TV. Broadcast, online stream, or DVR recording? those are the same usage options as radio's broadcast, stream, and download choices. The stampede to on-demand access of audio programs might happen faster than with television, because podcast distribution is generally more open. If you like Alec Baldwin's Here's The Thing, you can access it on iTunes, TuneIn, Stitcher, Pocket Casts, and dozens of other apps. Thanks to the open RSS distribution standard, podcasting is (for the most part) spared the platform silos that afflict television viewers in the Netflix/Prime/Hulu universe.
What does the future look like? Deeply personalized. That means niche programming that appeals to the individual, available on the user's preferred platform. Targeted content, whenever and wherever the user wants. That is one reason that podcasting represents a huge opportunity for all of radio, not just NPR. Personalizing music output is an expensive challenge for radio because of technical and licensing complications. But talk — on-demand audio — is nearly free to produce and distribute to the world.