Media buying platform Strata released the latest in its series of quarterly agency surveys. The results show a dramatic drive toward online audio marketing, with a corresponding migration away from spot radio interest. See Strata's infographic here.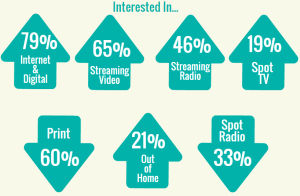 Strata's respondents expressed year-over-year sentiment for streaming radio and spot radio. when asked to compare interest in each category compared to 2014, there was a 46% increase of interest in streaming radio, and a 33% decrease in interest in buying spot radio. Eleven percent of responding agencies said that spot radio is the main campaign focus.
That sentiment trend matches a general favorability of Internet/digital advertising, which as a broad trend saw 79% increased interest in this survey. Widening the compass, the migration to online marketing across all categories was the headline point of a Borrell Associates report released last week, which documented local media increasingly buying into digital and abandoning traditional media. Strata is a national buying platform, but the trend to digital seems to cross the boundary to local.
Strata reports that overall growth of advertising is strong, with 53% of agencies projecting growth in 2015.
Questions about programmatic provide additional interest in the Strata surveys. In Q1 2015, 57% of respondents intended to use programmatic buying to some extent. Improved audience targeting was cited as the main benefit, with automation (process efficiency) being the second-best reason. About one-third of respondents were unsure what the biggest programmatic benefit might be.
The two biggest agency fears around programmatic were inventory transparency (knowing exactly what is being purchased) and inventory quality.