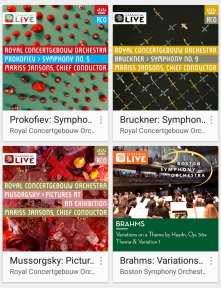 Google Play Music, and its subscription streaming component All Access, have partnered with a handful of world-class orchestras to package and digitally release symphonic albums. The content initiative is called Classical Live.
Four orchestras have collegially joined in the effort: New York Philharmonic, Boston Symphony, Cleveland Orchestra, London symphony Orchestra, and Royal Concertgebouw Orchestra. Classical Live offers budget pricing for album downloads ($4.99), and it lives in All Access as a branded section for subscribers. It's up and running now; we found 70 albums, each branded with a Classical Live logo.
Classical Music is not difficult to find in major music services, including Google All Access before this. But the devoted classical audience (as with jazz, EDM, and other specialty music categories with search-and-discover peculiarities) is generally underserved in a global service with 30-million tracks representing mostly contemporary pop music.
Classical Live's ambition is to better serve the traditional classical enthusiast (generalized as older and wealthier than average), and young, open-minded listeners whose genre tastes have not hardened into concrete. We couldn't help noticing, though, a bit of pop metadata infiltrating into the packaging. A recording of Beethoven's Eroica Symphony, a work in four movements, listed "4 songs" in the album. It's exactly that sort of category cluelessness that offends the devotees.
Note to Google: Take care of the details. To your potential genre customers, details are huge.