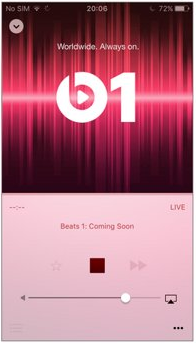 Anyone who is offered an Apple iOS upgrade to versions 8.4 or 9 will reportedly see the start of Apple's new radio lineup, a promised part of Apple Music, scheduled to launch widely on June 30. Beats 1, the high-profile global radio station helmed by Zane Lowe, whom Apple hired from the BBC, appears in the lineup but is not yet operating.
Apple Insider has published screenshots of the beta screens containing Apple's new "Radio" feature. The new beta iOS versions were made available to some users today.
Apple Insider reports thast 28 stations are visible. Beats 1 is the only live station; the others appear to be versions of genre stations currently part of iTunes Radio.
Apple Music is a much-anticipated, multi-deimensional music service that will join iTunes Radio and the iTunes Music Store in the music wing of Apple's digital ecosystem. Observers view Apple Music as a direct challenge to Spotify, as was Beats Music, which Apple acquired and transformed. Beats 1 is conceived as a live pureplay Internet radio station with studios in New York, Los Angeles, and London.