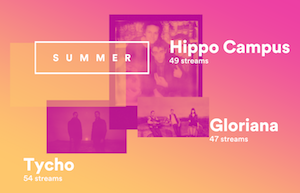 We love when Spotify finds cool ways to share data, and the end of the year is often when the streaming service shines. It delivered a Year In Music round-up that details any individual's music choices from the last 12 months. See your top-played artists, tracks, and albums, including their play counts (wow, do I listen to a lot of Tycho). It also sorts your listening seasonally, which adds an interesting new spin to the core data.
If you scroll through all of your data, you can read about some of the big touchpoints from the year, in and out of the music world. Spotify has prepared playlists to help you relive moments from Missy Elliott's comeback to the first album recorded in space.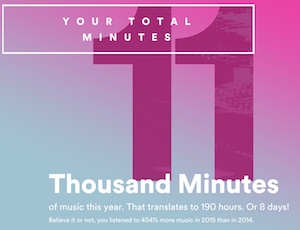 Closing out the presentation is another round of Play It Forward, which Spotify introduced last year. The playlist is a collection of songs targeted to the individual to take them into the next year. It's basically an extra Discover Weekly list. In fact, mine has several artists that I've previously seen in the recurring recommendations. Not that I'm complaining.
The 2015 Year in Music is another excellent display of cool music, data, and design from Spotify.