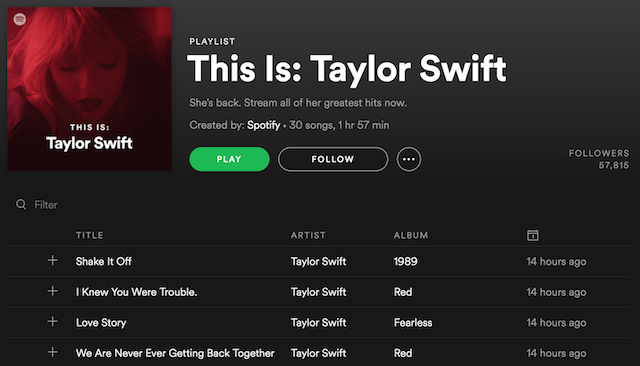 It has finally happened. The day that pop fans have dreamt of for almost three years. Taylor Swift has returned to Spotify.
In fact, the pop princess has returned her complete catalog to all streaming services. Swift took her catalog off many streaming services in late 2014, voicing concerns that free streaming options encouraged a devaluing of musical creations. Since then, she forged a close tie with Apple, including impacting how the fledgling Apple Music would handle free trial royalties and providing the streaming platform with some exclusive videos.
Swift announced the return to other streaming platforms with a tweet from her official management team. The given reason for her change of heart was that 1989 has now sold more than 10 million copies worldwide. (Observant followers of pop star infighting have also noted that this return coincides with the launch of a new album by Katy Perry. Swift and Perry have been in a public feud for years that allegedly inspired the 1989 single Bad Blood. Is the timing a coincidence or deliberate sabotage? We may never know.)
What we do know is that this marks a shift for one of the most visible critics of the streaming music economy. Even if the catalog release isn't permanent, this move from Swift adds to the growing volume of evidence supporting the role of streaming audio in the recorded music industry. It has been a strong performer in both the United States and globally since Swift first pulled her work.