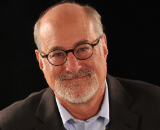 Steve Goldstein's Amplifi Media works with media companies and podcasters in developing audio content strategies. This column was originally published on Blogstein, the Amplifi blog.
---
Last week's Podcast Movement was action packed with great sessions and conversation. There were all sorts of valuable numbers and statistics flying around the sessions and hallways. Here are a few that caught my attention and are worth sharing:
2 Billion
The number of Android phones around the world who will have easier access to podcasts with Google's new app and initiative. Opportunity with a capital "O". (Google)
17-18 million
NPR CEO Jarl Mohn told the crowd, NPR has 30 million listeners, 40 million unique NPR.org users and 17-18 million podcasts listeners. NPR is the finest example of multi-platform content distribution we have in the audio sector.
Less than 1%
Current amount of listening to podcasts on smart speakers.  Yes, is it is frightening low. The potential here is significant. We covered ways to grow podcast listening on smart speakers in a panel I moderated with top execs from NPR, Scripps, Spoken Layer, Beasley & Jacapps.  More later this week.  As Edison's Tom Webster said, the low number is "a cry for help."  (multiple sources)
18%
18% of Americans 18+ own smart speakers – 43 million Americans now own at least one. This is happening fast. Faster than smartphones. (Edison Research)
20%
Radio to podcast cume duplication is just 20% says Bonneville Salt Lake City's Director of Audience Development, Sheryl Worsley.  Which means four out of five podcast listeners aren't currently being reached by the company's AM/FM radio stations which helps answer the often asked question of whether radio station podcasts are dillutive to radio listening.  We see other examples which support this notion.
17% Do
While the number ticks up with each study, the percent of people listening to podcasts on a weekly basis is growing rather slowly. Right now it is at 17% of Americans. (Edison Research)
83% Don't
If 17% do listen on a weekly basis, 83% of people do not listen to podcasts weekly. (See above). This brought up a healthy discussion at the conference about the friction of listening to podcasts, the awareness of podcasts in general,  and the appeal of the types of content which currently dominate the podcast chart. Where is the mainstream content like TV has?  We talk often in this blog about how awareness and desire top the list, closely followed by ease of use.  All fundamental issues for growth. Smart speaker growth, on the other hand, is explosive. A large part of its rapid growth is simplicity – just use your voice. We are still very much in the education phase converting people to podcast listening. (Edison Research)
48%
The percent of people unsure of how to listen to a podcast. This includes people who are interested in listening to podcasts, and those who don't even know they have a podcast app on their phone. (Edison Research)
1 Billion
Wondery CEO Hernan Lopez forecasting the realistic potential of 1 billion downloads per month across all podcasts.
10%
The growth in women listening to podcasts over the past year. (Gimlet).
31
The average age of an "Up First" podcast listener, which is about 15-20 years younger than a NPR listener.  We see this with time-shifted (and original) audio content drawing a sharply younger audience. For legacy media, this is remarkable opportunity. (NPR)
36
The number of podcast related companies involved with the IAB initiative to set measurement (download) standards. Finally, everyone will compare oranges to oranges (hard to use an "apple" reference here).
2300
The number of attendess at Podcast Movement.  That's a record number with 140 panels and sessions.
Podcast Movement hit the mark again with great content and networking.  Congratulations to Dan Franks and Jared Easley.  They do such a fantastic job balancing the various podcast constituencies.  It is hard to believe the conference is only a few years old.