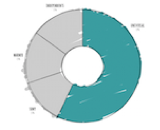 Music data specialist Next Big Sound has released a new report with just as much substance as style. The beautifully designed presentation reviewed some of the major music business trends of 2014. The data points show a snapshot of how the online music industry has continued to grow and create additional business opportunities for artists, labels, and their partners.
The report analyzes more than 434 billion total online plays from Spotify, YouTube, Vevo, SoundCloud, Vimeo, and Rdio. This metric of total plays rose 95% from 2013 and 363% from 2012. That's a skyrocketing growth curve that doesn't show any signs of waning.
That growth means a lot of potential value for brand partnerships. "Brands are striving to make genuine and long-lasting connections with both artists and customers," the report said. They're also willing to pay for those connections: brands spent about $1.3 billion on music partnerships in 2014. Universal led the pack in this regard, taking more than 50% of the deals with Fortune 100 companies last year. Impressively, independent labels attracted just as much interest from big business as Warner, with both holding a 15% share of those partnerships.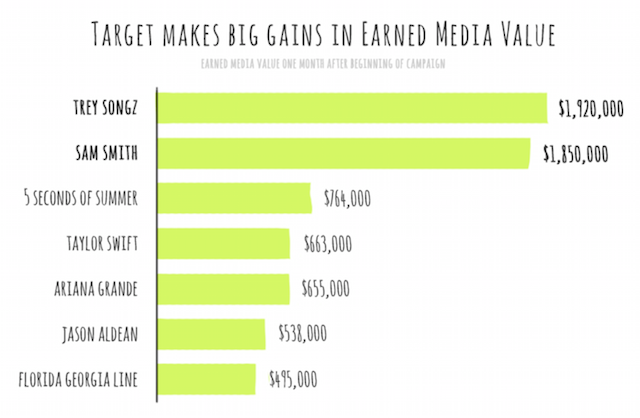 One particularly interesting graphic showed that the top earned media value in a marketing campaign doesn't necessarily come from the most popular star. Target worked with several artists, and both Trey Songz and Sam Smith clocked in at more than twice the earned media value of pop queen Taylor Swift one month into a campaign.
The report also covered the social media angle. Artists also have more than 17 billion fans across social channels. One interesting shift is that SoundCloud has seen a decline in followers, but is continuing to post growth in number of plays. This implies that even though fewer people are signing on to follow artists, they're still using the platform for listening, to the tune of 2.4 billion plays in December 2014 alone.