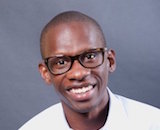 One of Spotify's latest hires announced that the streaming service now has 39 million paid subscribers. Troy Carter, global head of creator services, told Billboard that Spotify has added 9 million paying customers since the last audience update in March.
The interview also touched on the streaming sector's current race for exclusive releases. When Carter joined the team, many expected that he'd be leveraging his industry connections as an artist manager and the founder/CEO of Atom Factory to help Spotify be competitive with the relationships being built at Apple Music and Tidal. It seems that's not his focus, though.
"Exclusives are bad for artists, bad for consumers and bad for the whole industry," Carter said. While proponents of the strategy say exclusives give artists control and better revenue, critics like Carter say fans are more likely to look to piracy or torrents rather than subscribing to a second or third streaming platform.
"I was brought onboard to strengthen the bridge between Spotify and the music community," he said. "That goes beyond distribution. We can become a full-stack solution for artists."