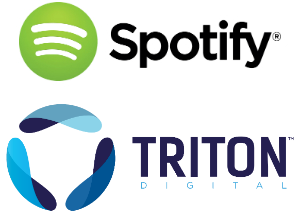 Spotify today announced the launch of a geo-targeted advertising platform for its ad-supported freemium service level. The initial rollout includes the top 15 listening markets. Launch partner Triton Digital provides verification metrics through its Webcast Local Metrics product.
There has been much recent scrutiny of freemium-listening models, especially Spotify's plan, and this geo-targeting initiative has the potential to drive new money into the industry. At the same time, locally specific ad sales represents Spotify's most specific competitive parry to Pandora's extensive effort to capture local ad share at the expense of AM/FM radio.
We spoke to Brian Benedik, Vice President/Advertising & Partnerships for Spotify North America. Benedik joined Spotify nearly two years ago, coming from the spot radio market. He told RAIN News that the spot radio community has expressed strong interest in buying Spotify local inventory. This platform launch is the start of serving that demand.
"There has been quite a bit of demand from the spot radio community," Benedik said. "I'm thrilled to get to this point, where we can build value for advertisers — and open up a new marketplace for Spotify."
The Technology
We asked Brian Benedik how the platform works. "The first step was getting infrastructure together to make sure we could properly target audiences. We recently migrated to a new ad server. We're now working with DSP, which is a standard ad server that allows us to segment audiences better than we could before."
Benedik also discussed The Echo Nest, a music and audience intelligence company that Spotify acquired in March.
"The other piece is with The Echo Nest. That allows us to identify audiences on Spotify more clearly than we could before. so it's a twofold technology play. The ad server allows us to do some things differently; the Echo Nest audience intelligence adds a layer that allows us to work with the geo-targeted audio community in a special way."
Verification
Triton Digital's measurement plays a key role in bringing verified numbers to market. The company's Webcast Local Metrics product was accredited by the Media Rating Council in March. "Triton is able, through its Webcast Local Metrics product, to measure our local audiences in the top 15 markets," said Benedik. "The ad community is looking for third-party measurement. Triton has done a good job over the last couple of years getting traction in the ad community for its metrics. So we're using their measurement to take to the marketplace for buying and selling audiences."
Triton's streaming metrics are available in major media buying platforms like Mediaocean and Strata, enabling advertisers to incorporate streaming audio in their campaign planning.
Spotify has the ability to sell geo-targeted inventory as of today. Brian Benedik told us that front-end results "will be a Q1-forward experience." Expansion beyond the initial 15 top markets is also potentially in the offing for next year.