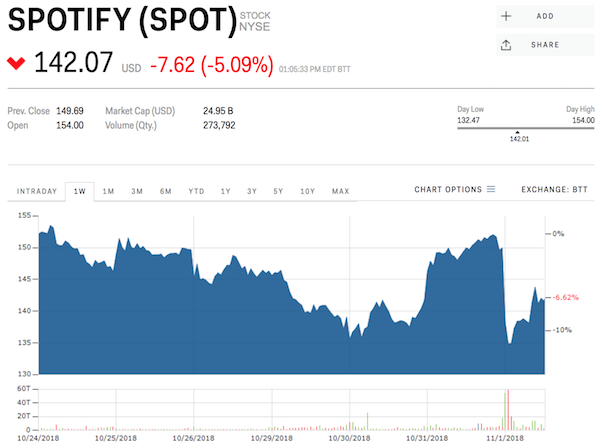 Spotify has posted its results from the third quarter of 2018. Despite several positive metrics for the period, including a long-awaited net profit, the company has had a rough ride with Wall Street this week.
Total revenue for the quarter was €1.352 billion, rising 31% on-year. Revenue from premium subscriptions increased 31% year-over-year to €1.21 billion, while average revenue per user for the period totaled €4.73.
Spotify reported net income of €43 million for the period, compared with a loss of €278 million in the same quarter of 2017. It is the first quarter ever for Spotify to post in the black, but the success wasn't entirely on the company's own merits. The note to shareholders explains that the push to a net profit was the result of re-evaluation of its minority stake in Tencent Music Entertainment as it plans its own stateside IPO.
In addition to finances, Spotify also shared updates about its listener base. Monthly active users for the streaming service rose 28% to 191 million. While Europe and North America continue to hold the largest portions of Spotify's audience, the company reported good growth in other regions. Latin America now has 22% of Spotify's total monthly active users and the Rest of World bucket has 11%.
The premium subscriber ranks increased 40% on-year to reach 87 million. Europe has a substantially larger chunk of this audience at 40%, followed by North America at 31%. But other markets are still contributing to the paid listenership.
Spotify closed with its outlook for the fourth quarter of 2018. It anticipates total monthly active users between 199 million and 206 million, with premium subscribers numbering between 93 million and 96 million. Revenue is projected to hit €1.35 billion to €1.55 billion.
The New York Stock Exchange opened with a low price of $133.40 per share, but it has been rising over the course of the morning. The current pricing is still notably lower than it was when Spotify reported its financials for the second quarter, when the per share price was above $190.