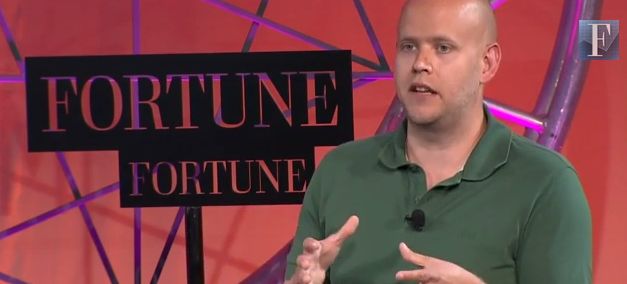 In a video (see below) of an interview at the Brainstorm Tech conference hosted by Fortune, Spotify CEO Daniel Ek covered a lot of ground, In particular, he downplayed the possibility of Spotify spinning out a much-rumored IPO, with an offhand criticism of life as a public company.
"I personally don't understand the quarterly capitalism of Wall Street. I don't think it's good. We're still early in our journey. We're fortunate that there are a lot of great investors who suupport companies and allow them to stay private." –Daniel Ek
Of course, "I personally" doesn't necessarily old sway in a company governed by a board of directors. Still it's interesting to hear Ek contradict rumors with such precision.
During the wide-raning Q&A, Daniel Ek evangelized the streaming model, naturally enough. for starters, he likes it that Spotify engages listening to more music that might go unheard in the music-purchase model.
"On iTunes, about 20% of all music there is purchased. On Spotify it's the reverse — about 80% of Spotify music is listened to. So, lots of music is heard on Spotify than would be heard in a purchase model. When you're forced to pay a dollar for a song, you're going to default to the big brands and things you already like. On Spotify you can see what your friends are listening to, and there is no risk to listen. That changes the game."
The Spotify CEO discussed changing perspectives over the three years that his service has operated in the U.S. market:
"Three years ago the big question was 'how big could streaming get?' Now, streaming is the de facto way that people will listen. The question now is what the economic impact will be, both for Spotify and the music industry."
He thinks the impact will be huge. Ek regards his competition to be the untapped global mass-market of people who listen to music without paying "in any shape or form." Ek totals that market at one-billion people.
"About one-billion people are listening to music without paying for it in any shape or form. If we can turn that billion-plus users into a legal service, the entire music service will be multiples larger than it is today."