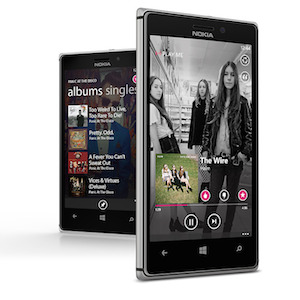 Microsoft sent the tech world into a tizzy yesterday with the announcement that it will cut 18,000 jobs. A large portion of those jobs will be removed from Nokia, which it acquired in April. That cut includes plans to spin off Nokia's MixRadio service into a standalone company.
Even before Microsoft picked up Nokia, the streaming app was focused on Windows phones. The first foray into mobile music in 2011 was a free app of company-curated playlists called Nokia Music that came preloaded on the company's Lumia Windows Phone models.
Around 2013, Nokia added a paid subscription tier to the service, which offered better audio quality, track skipping and cache playlists. It also expanded to a web version to offer access for devices outside its own brand.
The most obvious benefit of MixRadio going solo is the opportunity to branch out to iOS and Android mobile devices, but it will likely be an uphill battle. The crowded field of competing services are already established across both web and mobile platforms, and many have months or years of a head start on building an audience base. And since MixRadio has been limited to Windows phones, it likely doesn't have the brand recognition power of other services, such as Pandora or Spotify.
MixRadio will need to offer something distinct and valuable for listeners to encourage them to test it out, much less stay around. That could be a bargain price point, a unique curation angle, or a better interface, but it will certainly need to take steps to stand out from its rivals.
Even though it's losing Microsoft's support, MixRadio will still be preloaded on Windows phones. Also, thanks to tech's broader interest in music services and streaming, MixRadio may not have to look too hard to find backing from strong partners. "I've been meeting with potential investors around the world in the last few weeks," Jyrki Rosenberg, chief for MixRadio, told The Guardian. "We remain open for further discussions."
The Microsoft cuts may impact one other streaming service. The fate of Xbox Music, the streaming system for Microsoft's video game console, has not been divulged yet.