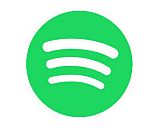 Spotify and Hulu are expanding their bundle deal. A joint subscription for the streaming audio and streaming video services was first announced in September. At that time, it was only available to college undergraduates. Now, the two companies have expanded the option to all customers.
The package is formally named "Spotify Premium, now with Hulu." It includes a Spotify Premium subscription in addition to access to Hulu's Limited Commercials streaming library. The joint access costs $12.99 per month. Current subscribers to Spotify Premium can participate in a three-month free trial of the Hulu bundled option for an additional 99 cents before committing to the full package.
"Our student launch with Hulu was incredibly well received and we are excited to extend our reach by bringing Hulu to more of our Premium members in the US," said Alex Norstrom, Spotify's Chief Premium Business Officer. "Hulu's TV content is highly acclaimed, and with this exclusive Spotify offer we are bundling two top media platforms for an unbeatable price. This is just one example of how we can add value to our premium members day after day."
Existing Spotify Premium customers can try the introductory offer now. Listeners without Spotify Premium are expected to have the joint subscription option made available this summer.