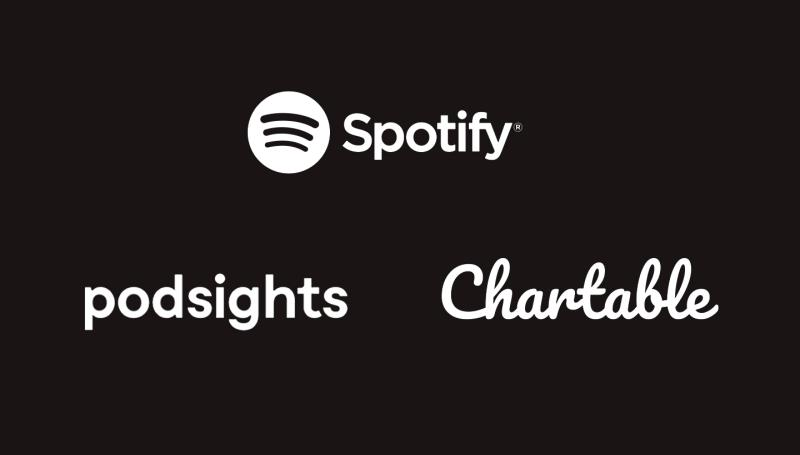 In an ambitious and consequential grab, Spotify has acquired two pillars of podcast advertising attribution, Chartable and Podsights.
Podsights is a leading podcast advertising measurement service that helps advertisers better measure and scale their podcast advertising.
Chartable is a podcast analytics platform that enables publishers to know and grow their podcast audiences through promotional attribution and audience insights tools.
The additions fortify Spotify's inceasingly formidable podcast tech stack, at the center of which is the Megaphone hosting and ad-tech platform.
"We believe we're still in the early chapters of digital audio and the opportunity for advertising in this space remains significant," said Dawn Ostroff, Chief Content & Advertising Business Officer at Spotify. "Our acquisitions of podcast technology players Podsights and Chartable are important steps in our pursuit of taking digital audio to the next level, underscoring the powerful impact it delivers for advertisers and publishers, respectively.
"Podsights is thrilled to join forces with Spotify to build a more robust platform for brands to measure and scale their audio advertising across our network," said Sean Creeley, Founder & CEO, Podsights. "Spotify's leadership in audio through its investments in its user experience, content, and technology will accelerate Podsights' roadmap and expand our reach to a global audience."
"We are thrilled to join the band at Spotify and the Megaphone team as we continue Chartable's mission to help publishers understand and grow their audiences," said Dave Zohrob, Co-Founder & CEO, Chartable. "Spotify's technology and intelligence will allow us to keep innovating, while delivering greater insights for publishers and more opportunities to help them build their audience and business."