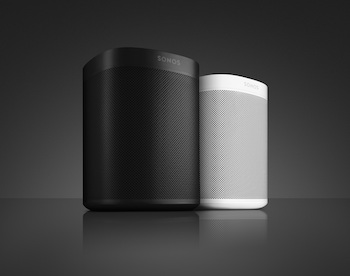 Sonos hosted a press event today to announce its latest developments in implementing voice controls into its wireless speaker product line, a pivot the company first announced in March 2016. First, the company introduced a new smart speaker with voice controls. Sonos One will cost $199 and ships on October 24. The speaker will support Amazon Alexa at launch, and support for Google Assistant is due to be added in 2018. Streaming services Amazon Music, iHeartRadio, Pandora, SiriusXM, and TuneIn can all be used with Alexa out of the box, and Spotify will be added after the launch.
"We live in a golden age of streaming entertainment," Sonos CEO Patrick Spence said. "But so much of this great content is being pushed through smart speakers that aren't designed with sound quality in mind. With our open approach to collaboration, agnostic approach to voice services, the strength of our many innovative partners, and a sound platform designed for the whole home, we're helping people listen more and listen better."
In addition to the new product, existing Sonos owners will be able to link up their speakers and control them with any Alexa-emabled device. This update is rolling out in the U.S., UK, and Germany. Next year, Sonos also plans to add support for Apple's AirPlay 2 set-top box.